Picco EFRA 2116 1/8 Exhaust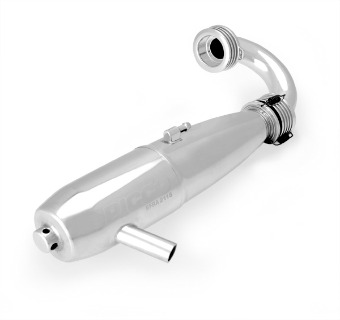 Picco's "Torque" EFRA 2116 Complete .21 Off Road Exhaust Kit produces a good balance of bottom and top end power delivery, and falls between the 2120 and 2033 in the "Torque" series of .21 exhaust systems. This is a complete package that includes the manifold, gaskets and springs needed to assemble one complete exhaust system.
If you want peak performance from your Picco "Torque" engine, then you need a Picco "Torque" Exhaust. Manufactured from only the finest materials, Picco Exhausts Systems are all the 'in-line' type, that uses springs to connect the manifold to the muffler. All Picco Exhausts Systems are EFRA homologated and designed to optimize the performance of your Picco made engine. Picco strongly recommends that you only use an original Picco exhaust with your engine. Durability and reliability of your power package could be compromised by using a different combination.