Striker SR3.0 190mm TC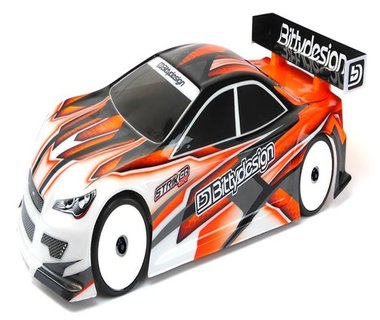 Striker-SR 3.0, 

developed

tested

 

developed

 for higher performances
The Striker-SR 3.0 body represent a new reality for drivers all around the world who race at top levels and always pretend to obtain the best result with their models.
The body shell has been tested for several months in Italy and we also collaborated for his development together with ETS formers.
Body Handling very aggressive
The Striker-SR 3.0 has been developed to be more effective on the front end  searching the maximum possible steering; the use of our rear hard wing Ultra Charge ensures the right overall balance helping the driver to support a really consistent race pace. These characteristics make the body suitable for use on asphalt and also carpet with high grip.
The look of the front of the body in addition to being easily recognizable has been created and designed to generate a high downforce that generates a very fast entering steering but extremely precise.
Product Features
The body respect all the international specs necessary for the approval by the federations, its EFRA, IFMAR, ROAR andBRCA homologated.
Made with high quality and genuine polycarbonate Lexan®
Included in the kit a complete set of screw, nuts and large plastic washers to fix properly the rear wing
Produced only Light Weight version, thickness of material 0,75mm
sold clear with protective film outside
included in the package a few decal sheets and windows mask
---
Track Guide for the use of the Striker-SR 3.0 body
The following values offer an overview of the ideal conditions of use of the body according to the grip of the surface and its general handling.
The numbers below are meant as a progressive scale where 10 is a hypothetical maximum value.
---
Photo Gallery
Check out the Striker-SR 3.0 body from different views; scroll down and click the images to enlarge