Tekin T-180 Low Profile Digital Hi-Torque Programmable Servo (High Voltage)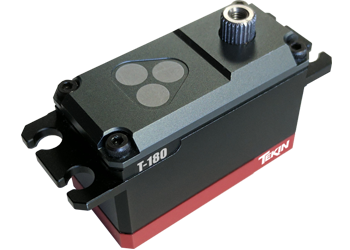 Big Torque in a small housing, this T-180 Lo-Pro Servo gives you plenty of options on the track. Designed to give you the industry's highest per degree resolution steering and plenty of speed to keep that chassis where you want it. Full Metal Gear set, All Aluminum Housing, Digital Position Encoding and loads of Torque, this servo keeps you in control. Fine-tune your setup with an extensive set of adjustments via Tekin's HotWire PC Interface.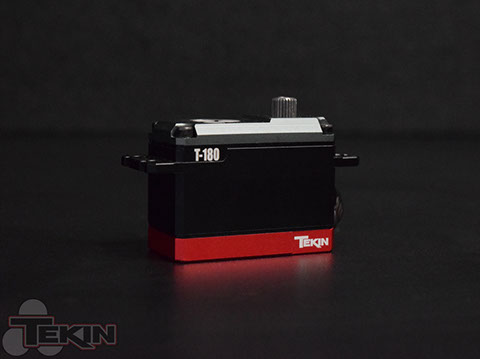 Torque: 8.4  - 7.4  - 6.0V
              212 - 194 - 165 oz/in
             15.3 - 14.0 - 11.9 kg/cm  
Dynamic Torque: 8.4  - 7.4  - 6.0V
                              350 - 323 - 280 oz/in
                              25.2 - 23.0 - 20.2 kg/cm
Speed: 8.4  -  7.4  - 6.0V
            0.06 - 0.07 - 0.08 sec/60°
Input Voltage: 4.8V-8.4V
Gear Set: Full Metal
Dimensions: 1.57 x 0.79 x 1.06in / 40 x 20 x 27mm
Mounting Height (Base to Mount Tabs): .72in / 18.4mm
Weight: 1.92oz / 54.6g

​

 Digital Magnetic Position Encoder (DPE)
​

 Low Profile Design
​

 Specifically Designed for 1:10 Scale Applications
​

 Included Aluminum 20mm Vector Servo Arm
​

 Full Aluminum Servo Housing
​

 Element Proof Design*
​

 Precision Cut Full Metal Gears
​

 ABEC5 Ball Bearings
​

 High Voltage Capable
​

 High Torque Coreless Motor
​

 25T Output Spline
​

 Programmable via HotWire PC Interface
​

 Overload Protection Technology
​

 Thermal Protection Circuitry
​

 Low Voltage Alarm**
​

 Quiet, Efficient, Cool Operation
​

 HDAC: High Density Copper PCB's
*Tekin Element Proof products are designed to withstand water, snow and mud. Not intended for operation while submerged in liquid.
**requires HotWire sold separately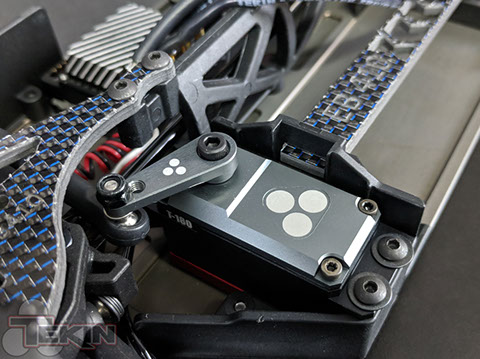 Take advantage of the free HotWire App for Tekin Servos. Get Connected and gain access to all of the programmable features in your servo and set max travel end points, center point and more.

HOTWIRE™ PROGRAMMABLE FEATURES
​

 Feel - Mild to Aggressive
​

 Speed Limit
​

 Torque (0-100%)
​

 Torque Delay
​

 Direction - Normal / Reverse
​

 Center Point
​

 Travel
​

 Soft Starting Speed & Torque
​

 Max Temp Alarm
​

 Low Voltage Alarm
​

 Over Voltage Alarm
​

 Bind Relief
​

 Fail Safe Speed and Position
​

 Set Custom Servo Name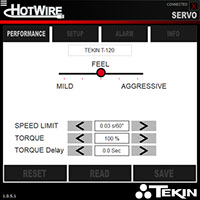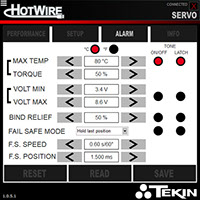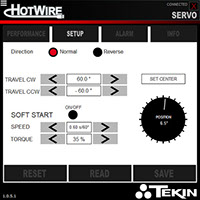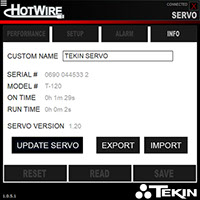 THE DIFFERENCE IS IN THE DESIGN
Tekin servos are crafted from the highest quality materials available. CNC Precision Cut gears provide an extremely smooth and efficient drive train. 6061-T6 machined aluminum 3-piece o-ring housings provide strength and protection from the elements while the finish quality and design are second to none. Sleek chamfered edges and bold lines combined with a matte anodized finish are sure to accent any build.
Included with the T-180 Servo is a machined aluminum 20mm Vector 25T servo arm.
​

 Digital Magnetic Position Encoder  (DPE)
Our servos use Digital Magnetic Position Encoding (DPE) rather than a standard potentiometer, which gives Tekin servos industry leading accuracy, linearity and consistency.
​

 Accuracy
Precise linear movement through the entire motion range with less than .2 degrees of deviation from start point to end point make Tekin the superior performance product.  Low deviation DPE technology translates to pinpoint accuracy not found in other potentiometer servos, which tend to wander and center poorly and get worse as they age. Tekin is built to last at peak performance.
​

 Linearity
Potentiometer servos can be up to seven degrees non-linear from end point to end point, creating a disconnected feel from your transmitter. Tekin servos eliminate this disconnect, giving you a linear feel and more precise control over your servo movement and position.
​

 Consistency
Performance is important but we are all about consistent performance. Potentiometer performance drifts due to many variables; heat, age, component quality, etc. DPE is a rock-solid, repeatable and consistent technology bringing an unmatched consistency to Tekin servos. Tired of constantly trimming your servo and having response feel different during times of longer usage? Tekin servos are the answer.
​

 Efficiency
Accuracy drives efficiency. A servo that has to work less to center or stop without overshooting position is using less energy. This means less heat build-up, less component fatigue and longer life.
​

 Adaptability
Tekin Servos come with a series of unique features; DPE technology lets you set the center point anywhere, and servo travel limits can be set without reducing the End Point Adjustments (EPA's) on your transmitter.  Most servos are limited to 90° travel in each direction with a physical stop point; DPE means that Tekin servos can be programmed to travel beyond 360°-- up to 5 full rotations in each direction!
​

 Element Proof
Dependable, no matter the terrain. Element Proof Tekin products are designed to handle water, mud & snow within reasonable restrictions. While we are not afraid to take on the elements, submerging is not recommended.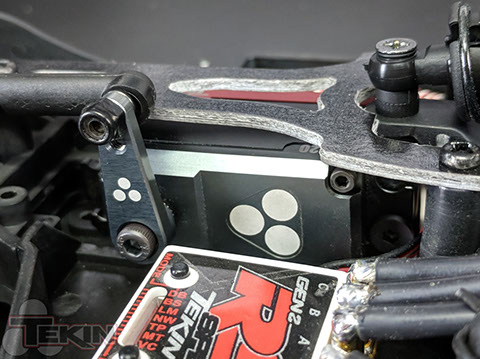 PART NUMBERS
TT1500 - T-120 LP Speed Servo
TT1501 - T-180 LP Torque Servo
TT1502 - T-130 Standard Speed Servo
TT1503 - T-190 Standard Torque Servo
TT1504 - T-250 Standard 1:8 Speed Servo
TT1505 - T-300 Standard 1:8 Torque Servo
TT1506 - T-360 Standard 1:8 / Crawling Torque Servo
TT1507 - T-440 Standard 1:8 / Crawling Torque Servo
SERVO ARMS
TT3902 - 20mm Vector Aluminum Servo Arm Horn 25T
TT3903 - 20mm Crowbar Clamping Aluminum Servo Arm Horn 25T
TT3904 - 24mm Crowbar Clamping Aluminum Servo Arm Horn 25T
GEAR SETS
TT3907 - T-120 LP Servo Gear Set
TT3908 - T-180 LP Servo Gear Set
TT3909 - T-130 Servo Gear Set
TT3910 - T-190 Servo Gear Set
TT3911 - T-250 Servo Gear Set
TT3912 - T-300 Servo Gear Set
TT3913 - T-360 Servo Gear Set
TT3914 - T-440 Servo Gear Set
HOUSINGS
TT3915 - T-120 LP Servo Housing Set
TT3916 - T-180 LP Servo Housing Set
TT3917 - T-130 Servo Housing Set
TT3918 - T-190 Servo Housing Set
TT3919 - T-250 Servo Housing Set
TT3920 - T-300 Servo Housing Set
TT3921 - T-360 Servo Housing Set
TT3922 - T-440 Servo Housing Set
HOTWIRE

TT1451 - HotWire 2.0
TT1452 - HotWire 3.0 BLE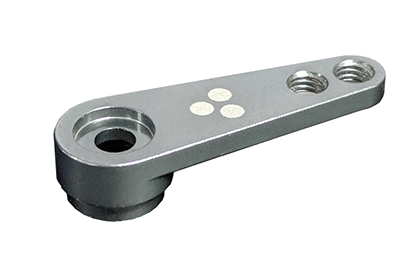 VECTOR


Included with: T-120 / T-180 / T-130 / T-190

TT3902
Spline: 25T
Length: 20mm
Material: 7075 Aluminum
Design: Press Fit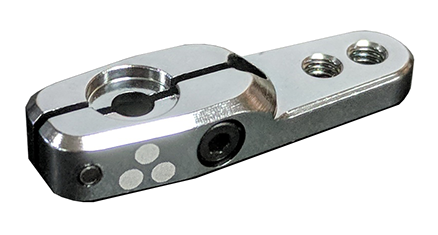 CROWBAR


Included with: T-250 / T-300 / T-360 / T-440
TT3903
Spline: 25T
Length: 20mm
Material: 7075 Aluminum
Design: Dual Clamp